If you would like to purchase this note from the owner [damodhar] you may send them a message. To do this you must be
Logged in
. If you do not have a banknoteclub.com membership,
sign up here
.
bank of bengal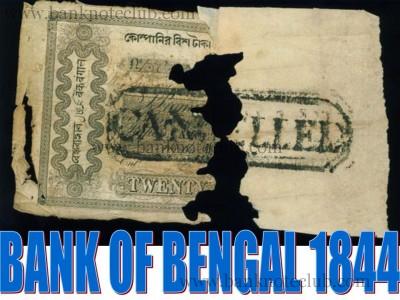 Price: USD 3,333.00
Item Owner :
damodhar
Country : India
Denomination : 20 RUPEES
Grade : G
Issue Year : 1843
Pick Number : xxx
Special : Cancelled
Signature : not known
HALF BANKNOTE STORY OF BANK OF BENGAL 1839 AD CALCUTTA.
-researched written by Musham Damodhar Rao Historian-Epigraphist
- Owner of indianbanknoteS.blogspot.in
With 1,84,554 hits from 156 nation.
India experienced turbulent period during the rule of East India Company, The East India Company had started a new system so
far in dark coming into light with this document for first time.
Thugs played havoc in roadside travel, to cope this EIC envisaged a plan to issue banknotes which failed several times
from 1797 to 1809 .Later the issues started from 1812 in Sicca Rupees which were not so successful so people knew little
about them.
present design of banknotes came into effect from 1824 with limited issues, with Commerce sitting on Merchandise.
Value panels in English, Bengali,
Persian and Gujarati.
EIC developed a system to counter THUGS and robberies menace. First one half of banknote was sent then second Half was
sent if first half reached safely otherwise the second half was surrendered to Bank of Bengal to redeem the amount of the banknote.
THIS STORY IS TOLD IN THIS DOCUMENT EXECUTED IN FORM OF "BOND OF INDEMNITY" OF BANK OF BENGAL.
indianbanknotes.blogspot.in
http://bankofbengal.blogspot.in/