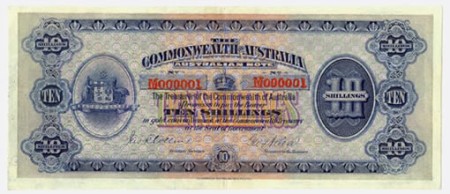 First Official Commonwealth Banknote
On the 1st of May 1913 the first official Commonwealth banknote was printed with a number of important personages in attendance, including Andrew Fisher, The Governor of the Commonwealth Bank Dennison Miller, the Governor General Thomas Denman, and the Lord Mayor of Victoria. A quick demonstration of the printing process was followed by a ceremony where the first banknotes were then produced by a hand numbered machine press.
1913 Ten Shilling banknote
The Governor Generalís daughter, Judith, was then involved in operating the lever of the hand press to produce the first Australian Banknote, with the serial number M000001, and was subsequently presented with this important note. Thomas Denman and his family returned to England upon the completion of his term, and the note then remained with the familyís descendants until it was returned and sold in Australia in 2000 by Mr. Barrie Winsor.