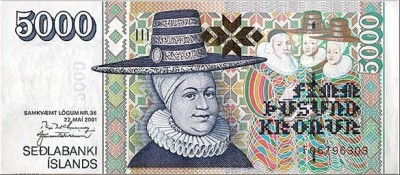 5000 Kronur Iceland
The model for this striking fashion statement is Ragnheiour Jonsdottir.
She lived 1646-1715 and was most noted for being the wife of not one but two successive Icelandic bishops Gisli Thorlaksson and Einar Thorsteinsson.
Ragnheiour was considered one of the finest marriagable women of her time and was an active seamstress. That's Ragnheiour teaching a couple of students on the back." When this note was introduced, the Central Bank of Iceland tried to find imagery related to Icelandic women and their contribution to Icelandic culture.