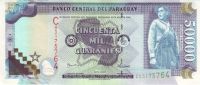 Paraguay 50.000 Guaranies, Series C
Issuing Authority: Banco Central del Paraguay This note of the series C, which was printed in 2005 in France, has a very thrilling history.They were intended to enter circulation in early December 2006, but in response to the theft the Central Bank has canceled this emission of the "C" series. The total value of the theft exceeds US$2.3 million.
To read more about this note or other banknotes stories click here
Search this site with Google
Mehilba World Replacement
Mehilba World Replacement
By Dr. Ali Mehilba 2014
The First Comprehensive Book on World Replacement Notes A 4-color page, 592 elegant publication covering 300 countries worldwide including detailed information on each country, Pick number, dates, series and special catalog numbers, in addition to a price guide.
Buy your Copy @ www.worldreplacement.com